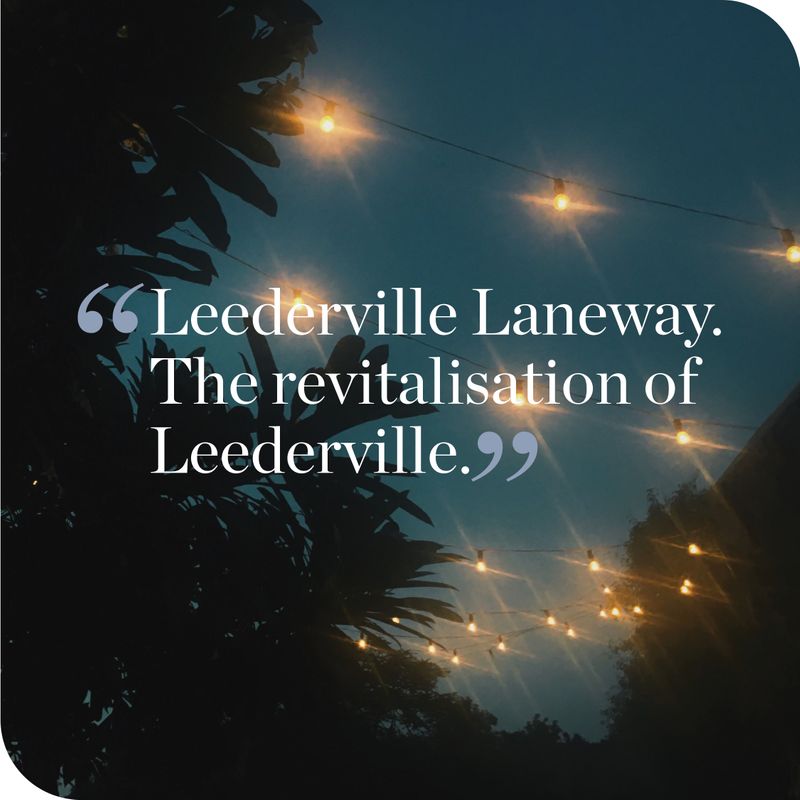 An under-used laneway in the heart of Leederville's entertainment strip is set to be transformed into a bustling food and entertainment precinct. This presents an extraordinary opportunity to tenants seeking to occupy a space in the heart of Leederville.
The new entertainment strip will bring together Leederville's most iconic pub, The Leederville Hotel, with the newly created office development for ABN Group's 750 plus team members and the wider Leederville community. In addition, this unique, high-quality laneway experience will also help draw visitors, shoppers, families and foodies into Leederville in 2021. At the same time The Leederville Hotel is undergoing a multi-million dollar refurbishment, which includes the construction of a new dining area and bar, shop and kiosks that will open onto the laneway. The precinct draws its inspiration from Melbourne's laneway culture bringing shops, restaurants, food trucks, bars, cafes and art to the streets.
The Laneways plans consist of 7 spaces to dine and relax, as well as games areas for little kids and big kids (including a playground) and the installation of public art to compliment the existing celebration of art in the area.
The developer Hesperia of Leederville's first true laneway precinct is inviting the local community to get involved and claim it's new name.
"We would like to encourage residents of Leederville and its surrounds to have their say in what will become Leederville's most iconic laneway" said Graeme Dick, Hospitality Development Manager at Hesperia.
The 'Name the Leedy Laneway' competition commenced on the 18th of January 2021, with the winner receiving a $500 voucher to spend at the Leederville precinct and their entry as the official laneway name.
"Once the laneway is opened, it will be momentous in the revitalisation of the Leederville precinct. On the doorstep of the city Leederville has always attracted families and friends enjoying brunch or lunch, shoppers drawn to its eclectic mix of open till late retail, as well as anyone looking for a night out. " said Michael Richardson, Sales & Leasing Retail Specialist at Realmark Commercial.
The City of Vincent has thrown its support behind the plans and has committed to funding part of the infrastructure, lighting, paving and drainage works on the laneway.
Realmark Commercial is proud to announce themselves as the official leasing partner of the dynamic Leederville Laneway. 2 of the 7 tenancies have already been confirmed and multiple options being considered – the laneway is filling fast! Spaces range from 38 sqm – 96sqm.
If you'd like further details on the exciting leasing opportunities on offer at the Leederville Laneway, contact Michael Richardson on 0423 758 870 or email mrichardson@realmark.com.au.